Make your reservations at the following resorts.
NOTE: "All Inclusive" plan means accommodations, meals, drinks, activities,
taxes and gratuities are included in the price of the room.
Room rates shown are estimates only in US Dollars $:  Not guaranteed, subject to change and
vary by season, early booking discounts, currency fluctuation and accommodation selected.

Hidden Beach Resort-Cancun, Mexico (Beachfront Location)
Hidden Beach Resort, an hour south of Cancun, is an intimate 43 suite clothing-optional resort for upscale adult travelers for singles and couples who enjoy an all-inclusive vacation where it's your choice to be nude 24 hours a day or enjoy the resort as a clothing optional venue. Nudity not compulsory.

Clothes or no clothes swimsuits or none or topless ….It's up to you and perfectly acceptable to enjoy the resort as you prefer!  Nudity is not compulsory. Most folks dress for dinner at Hidden Beach plus they visit the El Dorado Resort located next door with ten more dining venues. It's all complimentary for guests of Hidden Beach. All resorts are owned and operated by the same company. Karisma.
Hidden Beach is about an hour south of the Cancun International Airport.
All inclusive, adults only. All inclusive price range starts $249-$325/person/night.  Not guaranteed, subject to change and seasonal discounts.  Contact us for more info.
Cap d'Agde, France (Beachfront)
This development is a nudist city of 30,000 right on the Mediterranean in southeastern France. The naturist (naturisme) section with hundreds of room rooms, apartments, villas and large camp ground is only a small part of the larger real estate development with thousands of square kilometers containing apartments, homes, markets, restaurants, hotels and golf courses.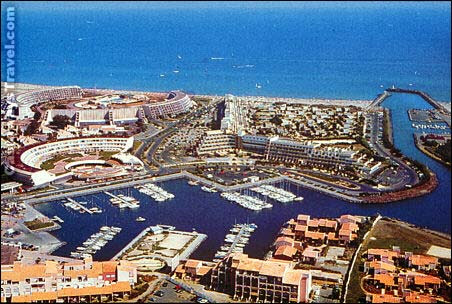 Accommodations in the naturist section range from beachfront apartments, condominiums, homes and hotels to nearby villas or castles in the hills during high seasons late spring, summer and fall.   Otherwise, the naturist section of the town is closed down; actually no one chooses to visit when it's cold!   Nudity not compulsory.
Cap d'Agde can be reached by rental car, by train and by air service from Paris or other gateways to Montpelier, about an hour away or Bezier's commuter airport is a bit closer.  The closest train station in the town of Agde is about 10 minutes by taxi to the naturist section of Cap d'Agde.
Price range starts about $150-$175/night+French tax.  Not guaranteed, subject to change and varies by season, currency fluctuation and accommodation selected.  

Intima Resort   Tulum, Mexico (near Cancun)

Intima Resort is an upscale, adults only, clothing optional condo property with 36 units, villa apartments and penthouses located near the city center of Tulum, south of Cancun's International airport about 90 minutes or more by car. Some accommodations adjoin, perfect for two couples to share a common living room and kitchen.

Intima is not on a beach; it's 3 blocks from Tulum's main street.  Nudity not compulsory.  Most guests dress for dinner or to visit restaurants and night nearby in Tulum.

Intima is a private, walled complex surrounded by the Mexican Caribbean jungle, located close to the town center, as well as Tulum's clothing optional beaches not far away.

A small restaurant, Jacuzzi and swim up bar are on site.  Many apartments include a kitchen or kitchenette.   Intima also offers an optional a meal plan if guests want to dine on site.  
Adults only, rental by the room only or meal plan available for extra cost.
Price range starts about $175-$200/night+19% Mexico tax (room only).  Not guaranteed, subject to change and varies by season, early booking discount and accommodation selected.

Garden Villas   St Martin, French West Indies
A clothing optional gated "mini resort" called "The Garden in St. Martin" at Mont Vernon islocated just 5-10 minutes from Orient Beach by car.  The complex features five (5) separate villas and apartments  (3 with a private Jacuzzi)  plus a tropical garden, a big swimming pool and new spa on site. Owners Lydia & Lionel are originally from Brittany in western France and are multi-lingual.
Each accommodation has a kitchen, bedroom, living area, bathroom and terrace with access to the garden and the swimming pool. "The Garden" is a friendly place: In the clothing-optional common area guests can relax, meet other guests around the pool in the tranquility of the garden or with lounge music.  Excellent cuisine and delicious dining is close by in Grand Case.  No restaurant on site.     Nudity not compulsory.

This is an adults, couples only property.   NOTE:  The villa complex is not on the beach, but Orient Beach is very close.
The Queen Juliana (Dutch side) International airport is about 45 minutes - 1 hour away, depending upon traffic.  L'Esperance local commuter airport near Grand Case is 5-10 minutes away. Orient Beach is about 5-10 minutes drive by car.
Price range starts about $175-$200/villa/night+approx 5% French hotel tax.  Not guaranteed, subject to change and varies by season, early booking discount and accommodation selected.
Resort Grottamiranda   Brindisi, Italy
This converted 16th-century limestone country home with 9 rooms in the middle of olive groves, has been restored as a wonderful hideaway, a unique, high-quality naturist retreat, completely private, welcoming both adult singles and couples as well as families (although the owners stated families with children are rare).  Owners are Martine and Pierre, originally from Paris, who are multilingual and totally friendly and gracious.
This gated property is spacious with a wonderful nude swimming pool, canteen for snacks and drinks plus a common outdoor cooking and barbecue area for guests.  Some accommodations include a kitchenette. One master suite includes a full kitchen.  Each unit has its own bedroom and bathroom.
Nudity compulsory in the swimming pool and around the pool deck.
An informal nude beach is about 20-30 minutes away.  Alert:  This is a natural beach, unimproved with no facilities, part of a state park called Torre Guaceto. Informal nude usage is to the west of the established textile beach area....and requires about a mile walk through what can be high surf, picking your way around flotsam and jetsam.   Check with Pierre and Martine before you go. They may also run occasional escorted excursions there.
Rentals are room only.  Restaurants and markets are minutes away.  A rental car is the best transportation option for exploring the area.
The resort is approximately 20 minutes by car from the Brindisi Airport, an hour from Bari.   Both offer direct connections daily to/from Rome and other cities on the Med.  Rome is about an hour away by air.
Price range starts about $150-$200/room/night.  Not guaranteed, subject to change and varies by season, early booking discount, currency fluctuation, and accommodation selected.
Curacao B & B (breakfast extra)

For adults only:  All are welcome:  Single, couples - hetero, gay, lesbian....  The Curacao facility has eleven (11) accommodations: One (1) Villa - 2 couples, 5 bungalows, 1 studio, 1 apartment, 1 room and 2 Safari tents, all suitable for a maximum of 2 people.  Most accommodations include kitchen facilities.   Nudity is not compulsory as this is a clothing optional property. Not on a beach.
Curacao is serviced daily with flights from the USA, central and south America and Europe, especially via KLM non-stop flights from Amsterdam.
About 20 minutes from Curacao's International Airport and 35 minutes (18 miles) to city center, Willemstad.
Starts about $ 40-60/night. Not guaranteed, subject to change and varies by season, early booking discount, currency fluctuation and accommodation selected.

Costa Rica       COCR = Clothing Optional in Costa Rica
COCR is a small B&B with 5 apartments with kitchen facility, bath, living area, bedroom, etc.  Not on a beach but on a hill overlooking the ocean with beaches nearby. In the Guanacaste area, located in village of Nosara facing the Pacific, on the Noicoya Peninsula, west of San Jose and the mainland.
Room cost average starts about USD $100/room/night    See website:   www.COCR.info